3 Links about Internet Linguistics
Because Internet, Vine humour, and a class twitter account
Today's 3 links are for internet linguistics:
The Meaning of All-Caps — in Texting and in Life
Wired article by Gretchen McCulloch
An excerpt from Because Internet about all-caps and repeated letters for emphasis, in both their internet incarnations and their pre-internet history, ~2k words. (The first part of Chapter 4, Typographical Tone of Voice, which later also discusses irony punctuation.)
From what I've been told so far, Chapter 2 (intro to sociolinguistics and dialectology through internet linguistics) and Chapter 5 (emoji and gesture) are the most frequently assigned chapters of Because Internet. Chapter 2 hasn't been excerpted anywhere, but the content of Chapter 5 also overlaps with an academic paper about emoji as gesture with Lauren Gawne, as a Lingthusiasm episode (30min audio, transcript), and as an Abralin talk (1h10m video, auto-captions).
Race, humour and activism online through the lens of Black digital culture
YouTube video of a talk by Kendra Calhoun
This talk focuses on how Black social media users engage in everyday online activism through humour, via two case studies of Vine and Tumblr. (Talk delivered as part of the University of Kent's online speaker series; 1h33m, talk ends at 51m and remainder is questions. Captions: human-edited.)
See also: Kendra Calhoun's work on Anti-hegemonic humour on Vine, which exists as an academic paper and as an interview on the Vocal Fries podcast (52min audio episode, transcript).
Internet Linguistics curriculum reading list
Syllabus by Maria Heath
This syllabus (pdf) is from a Spring 2019 course on internet linguistics taught by Maria Heath at Macalester College, and provides a good breakdown of internet linguistics articles, both academic and news, organized by topic, with a sentence or two of description for each — a good entry point into internet linguistics literature for other syllabi or for students beginning a research paper.
For an internet linguistics course taught via twitter, also check out LING 004B, a class taught in Spring 2020 by Miranda Weinberg at Swarthmore College, which includes threads from students responding to readings and occasional interactions with the authors of the readings as well.
Extra-curricular: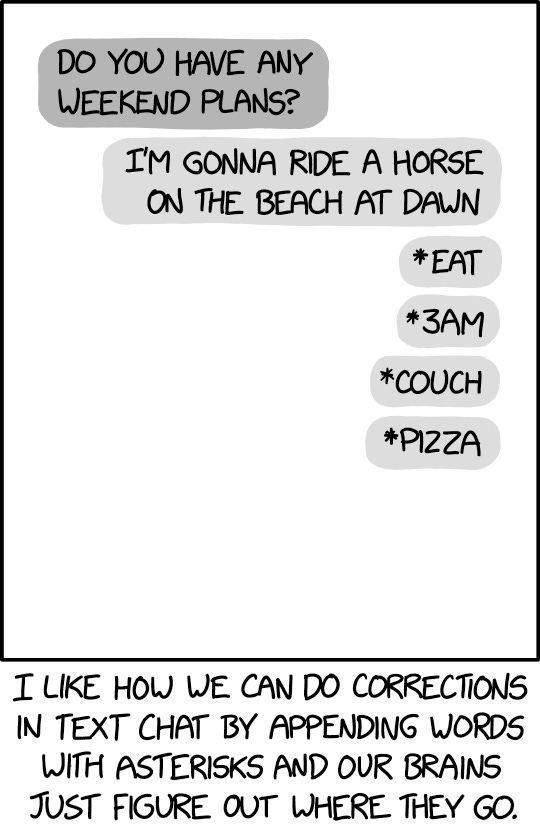 Seriously, someone please analyze the correction asterisk like in this xkcd comic.
In other news, Because Internet is now available in paperback form, making it significantly more accessible to students! Here are some links to get it in various formats.
Also, if anyone's students write up interesting papers about internet linguistics this semester, I would very much love to read them, especially anything about TikTok, Discord, videochat, or the "stories" format (on Instagram or elsewhere). Just in case anyone's looking for some topic ideas :)
See you next week for a 3 Links post about language revitalization.
Gretchen and Lauren
About Mutual Intelligibility
Mutual Intelligibility is a project to connect linguistics instructors with online resources, especially as so much teaching is shifting quickly online due to current events. It's produced by Lauren Gawne and Gretchen McCulloch, with the support of our patrons on Lingthusiasm.
Mutual Intelligibility posts will always remain free, but if you have a stable income and find that they're reducing your stress and saving you time, we're able to fund these because of the Lingthusiasm Patreon and your contributions there. 
Here's where you can tell us which topics would be useful for you. The more requests we get for a specific topic, the more it helps us prioritize resources that will help the most people. 
Here's where you can send us links (of either things you've made or have found useful) for potential inclusion in future newsletters. You can send a single link, or a set of three which may become a 3 Links guest-post! (With credit to you.) 
If you have other comments, suggestions, or ideas of ways to help, please email mutual.intellig@gmail.com