3 Links for Gesture Studies
Resources from Lingthusiasm, Tom Scott and Kensy Cooperrider
Today's 3 links are for gesture studies: 
Lingthusiasm Episode 30: Why do we gesture when we talk?
YouTube video
An introduction to the gestures people use while they're speaking. This video covers general features of co-speech gestures, the contexts in which we use gesture, gesture acquisition and cross-cultural variation. Video is 34m19s, with podcast audio-only available too. Closed captions in English (human-edited) and full transcript available. 
Why Do We Move Our Hands When We Talk?
YouTube video
A 4 minute introduction to the major categories of co-speech gestures. Includes description of iconic, metaphoric, deictic, pragmatic and beat gestures, as well as emblem gestures. Closed captions in English (human-edited). 
The way humans point isn't as universal as you might think
Conversation article
An article from Kensy Cooperrider that explores variation in pointing gesture. I always use Kensy's work when teaching about deictic gestures. I like to pair it with discussion of this video of people giving directions (you can talk about the ethics of the recording as well as the gesture variation!). 
A distraction:
No biggie, just Churchill casually giving a rude gesture (I wrote about the Up Yours gesture, and why Churchill knew *exactly* what he was doing, for Strong Language a few years ago)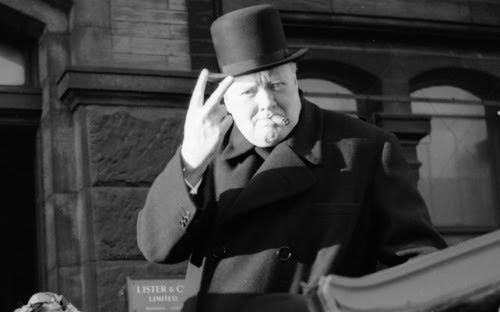 I'm giving a Zoom talk about my work with Gretchen on emoji as digital gestures this Thursday 30th March at 1pm (Melbourne time). There are still a few tickets available. You can also hear about this work in episode 34 of Lingthusiasm. 
See you on Wednesday for a 3 Links post about Linguistics Communication (Lingcomm).
Lauren, Liz, Gretchen, and Kate
About Mutual Intelligibility
Mutual Intelligibility is a project to connect linguistics instructors with online resources, especially as so much teaching is shifting quickly online due to current events. It's produced by Lauren Gawne and Gretchen McCulloch, with the support of our patrons on Lingthusiasm. Our 3 Links editor is Liz McCullough, and our Resource Guide contributor is Kate Whitcomb (Layman's Linguist).
The newsletter consists of 3 Links on a topic on Mondays and Wednesdays and longer Resource Guides on Fridays, both of which are free and will always remain free, but if you have a stable income and find that they're reducing your stress and saving you time, we're able to fund these because of the Lingthusiasm Patreon and your contributions enable us to fund more guides, more quickly. 
Here's where you can tell us which topics would be useful for you. The more requests we get for a specific topic, the more it helps us prioritize resources that will help the most people. 
Here's where you can send us links (of either things you've made or have found useful) for potential inclusion in future newsletters. You can send a single link, or a set of three which may become a 3 Links guest-post! (With credit to you.) 
If you have other comments, suggestions, or ideas of ways to help, please email mutual.intellig@gmail.com