3 Links for Language Revitalization
Rising Voices Documentary, N. Haʻalilio Solomon on Fieldnotes and a YouTube video on the history of Hebrew
Today's 3 links are for Language Revitalization: 
Hótȟaŋiŋpi: Rising Voices
Documentary
This 2015 film, organized by The Language Conservancy, shares the story of the Lakota language, the voices of the Oceti Sakowin, and the fight for linguistic revitalization in North and South Dakota, USA. Lakota is just one example of the global threat of indigenous language extinction. 56m43s. Lakota (with English subtitles) and English. Documentary trailer.  
Field Notes: Interview with N. Haʻalilio Solomon
Podcast episode
On Martha Tsutsui Billins' Field Notes podcast, N. Haʻalilio Solomon shares his experiences in language documentation and revitalization of  ʻōlelo Hawaiʻi. Solomon also discusses linguistic ideologies and attitudes surrounding the revitalization process. 37m47s. Transcript coming. Show notes and images available.
The History & Revival of Hebrew
YouTube video
Hebrew, the written language of the Christian Old Testament and other historical texts in Judaism, is often considered the most successful (and certainly most dramatic) example of language revitalization. This video follows the long history of the language, its death, and the work of Eliezar ben Yehuda in its reclamation as a fully functioning language of the people. From Unpacked (formerly Jerusalem U Media Lab). 10m58s. Human-generated captions in Hebrew, English, Russian, Spanish and Portuguese. 
Extra-Curricular: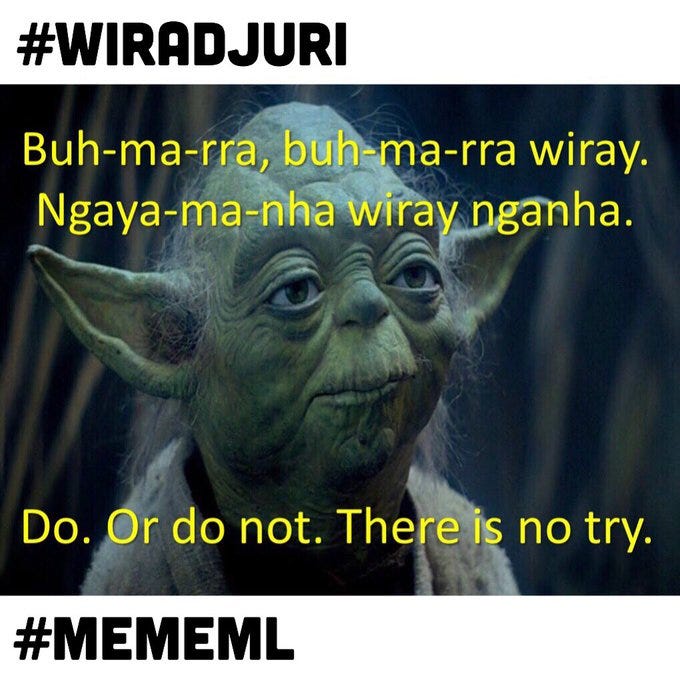 This Yoda meme in Wiradjuri was created as part of the Mother Language Meme Challenge 2018. Via #MemeML in 2018. More mother language memes here.
News update: 
See you next week for 3 Links about online teaching.
Lauren, Gretchen and Joel
About Mutual Intelligibility
Mutual Intelligibility is a project to connect linguistics instructors with online resources, especially as so much teaching is shifting quickly online due to current events. It's produced by Lauren Gawne and Gretchen McCulloch, with the support of our patrons on Lingthusiasm. This post was written by Joel Broberg.
Mutual Intelligibility posts will always remain free, but if you have a stable income and find that they're reducing your stress and saving you time, we're able to fund these because of the Lingthusiasm Patreon and your contributions there.
Here's where you can tell us which topics would be useful for you. The more requests we get for a specific topic, the more it helps us prioritize resources that will help the most people. 
Here's where you can send us links (of either things you've made or have found useful) for potential inclusion in future newsletters. You can send a single link, or a set of three which may become a 3 Links guest-post! (With credit to you.) 
If you have other comments, suggestions, or ideas of ways to help, please email mutual.intellig@gmail.com