Discover more from Mutual Intelligibility Resources
Connecting linguistics instructors and online resources
Over 1,000 subscribers
3 Links for Second Year Phonology Video Lectures
YouTube videos from TrevTutor, The Virtual Linguistics Campus, and Nicholas Rolle
Today's 3 links are for second year phonology: 
Phonology with TrevTutor
YouTube video series
16 videos ranging from 6 to 15 minutes. Colorful handwritten slides with voiceover. Content includes basic terminology, detailed discussion of particular features, SPE rules, sonority, and feature geometry. Some videos walk through the process of phonological analysis. Closed captions are auto-generated and struggle sometimes with technical terms, though often the technical terms are displayed on the slides.
Phonology Micro-Lectures with The Virtual Linguistics Campus
YouTube video series
33 videos ranging from 1 to 2 minutes. Playlist order appears to be arbitrary. PowerPoint-style slides with voiceover. Some videos present fundamental concepts and phonological processes, while others focus on social/historical variation in phonology. Closed captions are auto-generated and struggle sometimes with technical terms.
Introduction to Optimality Theory with Nicholas Rolle
YouTube lecture
51 minute video-recorded lecture from UC Berkeley phonology course. Provides an introduction to the basic concepts and mechanics of Optimality Theory. Presentation is directed toward students in the classroom, though easy to follow as a viewer. While students' questions can be difficult to hear, the recording is generally high-quality. Closed captions are auto-generated and struggle sometimes with technical terms.
If you want to provide some introductory scaffolding: The Ling Space's videos include several first and second year phonology concepts, with transcripts and supplementary material: http://www.thelingspace.com/phonology-episodes
A distraction: Who wouldn't want to be a schwa these days?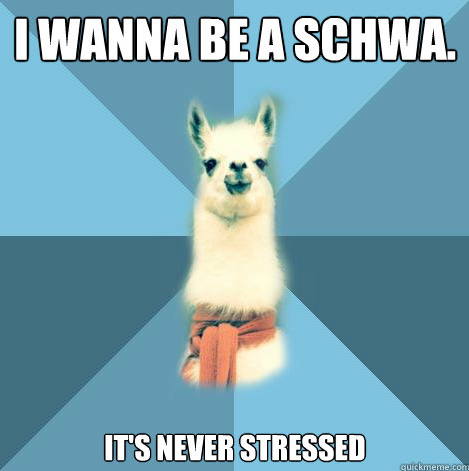 via Linguist Llama
In other news
In this edition we are pleased to introduce Liz McCullough as Mutual Intelligibility's 3 Links editor. In non-pandemic times, Liz runs the Science Communication Fellowship Program (@PacSciFellows) and other public engagement efforts at Pacific Science Center.
Doing meaningful things with good people is how we're going to get through these times. We're grateful for your positive responses to last week's newsletters, and hope that you're finding meaningful aspects of the new realities you're creating.
See you on Wednesday for 3 Links about Natural Language Processing (NLP).
Liz, Lauren, Gretchen, and Kate
About Mutual Intelligibility
Mutual Intelligibility is a project to connect linguistics instructors with online resources, especially as so much teaching is shifting quickly online due to current events. It's produced by Lauren Gawne and Gretchen McCulloch, with the support of our patrons on Lingthusiasm. Our 3 Links editor is Liz McCullough, and our Resource Guide contributor is Kate Whitcomb (Layman's Linguist).
The newsletter consists of 3 Links on a topic on Mondays and Wednesdays and longer Resource Guides on Fridays, both of which are free and will always remain free, but if you have a stable income and find that they're reducing your stress and saving you time, we're able to fund these because of the Lingthusiasm Patreon and your contributions enable us to fund more guides, more quickly. 
Here's where you can tell us which topics would be useful for you. The more requests we get for a specific topic, the more it helps us prioritize resources that will help the most people. 
Here's where you can send us links (of either things you've made or have found useful) for potential inclusion in future newsletters. You can send a single link, or a set of three which may become a 3 Links guest-post! (With credit to you.) 
If you have other comments, suggestions, or ideas of ways to help, please email mutual.intellig@gmail.com