3 Links for Sociolinguistics
YouTube videos from the Language & Life Project, Julie A. Hochgesang, and Cynthia Clopper
Today's 3 links are for sociolinguistics: 
Videos from the Language & Life Project at NCSU
YouTube video channel
This YouTube channel features (excerpts from) documentaries produced by the Language & Life Project at North Carolina State University, highlighting language variation in and beyond the local area. Excerpts generally range from 1 to 4 minutes; full documentaries, from 20 to 60 minutes. Professionally produced. Closed captions in English. Walt Wolfram has kindly invited instructors wishing to show their students the newest documentary, Talking Black in America, to email him at wolfram@ncsu.edu for that link.
Do Sign Languages Have Accents? with Julie A. Hochgesang
YouTube video
4-minute video from Gallaudet University and Mental Floss demonstrating regional and foreign accents in American Sign Language. Features many different signers. Professionally produced. No sound; closed captioning in English included as part of video. Thanks to Julie A. Hochgesang of Gallaudet University for creating and submitting this resource!
Conducting Sociolinguistic Experiments with Cynthia Clopper
YouTube video 
10-minute video showing different types of experimental setups for collecting sociolinguistic data at Ohio State University and discussing relevant considerations for each environment. Single speaker filmed in various locations. No closed captioning available.
If you want to provide some introductory scaffolding: The Ling Space's videos include sociolinguistic concepts, with transcripts and supplementary material: http://www.thelingspace.com/historical-episodes
A distraction: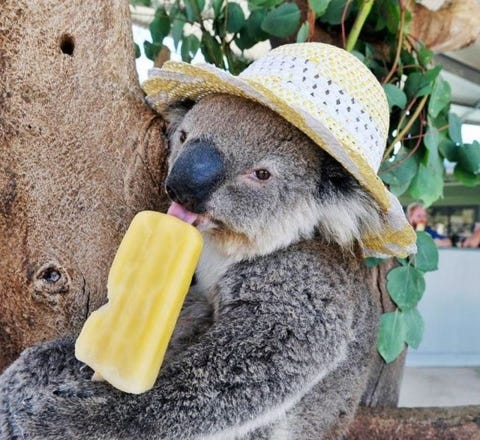 via Cutest Paw
Like the koala above, you should take a few moments today to do something that you find relaxing. The world is a lot to deal with right now, and we're in a marathon, not a sprint.
See you on Friday for a resource guide about morphemes.
Liz, Lauren, Gretchen, and Kate
About Mutual Intelligibility
Mutual Intelligibility is a project to connect linguistics instructors with online resources, especially as so much teaching is shifting quickly online due to current events. It's produced by Lauren Gawne and Gretchen McCulloch, with the support of our patrons on Lingthusiasm. Our 3 Links editor is Liz McCullough, and our Resource Guide contributor is Kate Whitcomb (Layman's Linguist).
The newsletter consists of 3 Links on a topic on Mondays and Wednesdays and longer Resource Guides on Fridays, both of which are free and will always remain free, but if you have a stable income and find that they're reducing your stress and saving you time, we're able to fund these because of the Lingthusiasm Patreon and your contributions enable us to fund more guides, more quickly. 
Here's where you can tell us which topics would be useful for you. The more requests we get for a specific topic, the more it helps us prioritize resources that will help the most people. 
Here's where you can send us links (of either things you've made or have found useful) for potential inclusion in future newsletters. You can send a single link, or a set of three which may become a 3 Links guest-post! (With credit to you.) 
If you have other comments, suggestions, or ideas of ways to help, please email mutual.intellig@gmail.com.