Introduction to Constituency - Resource Guide 4
Today's newsletter is our fourth Resource Guide, and it's about teaching constituency. 
There are many ways to approach the details of what kind of basic sentence structure to teach intro students to draw, so it would be impossible to put together a resource on tree-drawing that would satisfy everyone, but what these disparate approaches have in common is that they all come back to constituency. 
Why this topic is useful
Syntax is the study of sentence structure, and the analysis of this structure in a specific language or across a group of languages. Understanding this structure can help us see why some sentences are ambiguous. Part of analysing this structure is constituency: which words have a closer relationship than others. 
Resources
Constituency Test Videos
Syntax Tree Videos
Activities & Practice Exercises
Something fun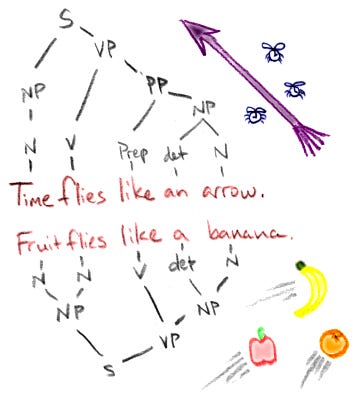 Via SpecGram
In other news
If you have any students who are looking for something to do after this semester the LingComm Grant is a $500 grant for communicating linguistics to broader audiences in 2020, and we've recently been able to upgrade to giving out four of them thanks to the support of Lingthusiasm patrons. Applications close 1st of June 2020. For more details visit lingcomm.org
See you on Monday for 3 Links about Articulatory Phonetics, and stay tuned for next Friday's Resource Guide on World Englishes. 
Kate, Lauren, Gretchen, and Liz. 
This Resource Guide is also available on mutualintelligibility.substack.com (where you can subscribe for email updates to future issues), and as a google doc or pdf. 
About Mutual Intelligibility
Mutual Intelligibility is a project to connect linguistics instructors with online resources, especially as so much teaching is shifting quickly online due to current events. It's produced by Lauren Gawne and Gretchen McCulloch, with the support of our patrons on Lingthusiasm. Our 3 Links editor is Liz McCullough, and our Resource Guide contributor is Kate Whitcomb (Layman's Linguist).
The newsletter consists of 3 Links on a topic on Mondays and Wednesdays and longer Resource Guides on Fridays, both of which are free and will always remain free, but if you have a stable income and find that they're reducing your stress and saving you time, we're able to fund these because of the Lingthusiasm Patreon and your contributions enable us to fund more guides, more quickly. 
Here's where you can tell us which topics would be useful for you. The more requests we get for a specific topic, the more it helps us prioritize resources that will help the most people. 
Here's where you can send us links (of either things you've made or have found useful) for potential inclusion in future newsletters. You can send a single link, or a set of three which may become a 3 Links guest-post! (With credit to you.) 
If you have other comments, suggestions, or ideas of ways to help, please email mutual.intellig@gmail.com

This Resource Guide was created by Mutual Intelligibility and is licensed under aCreative Commons Attribution 4.0 International License.